Oh no! Not every video for this fan-made album is here! Lille paired up with Hannah-Chan to try and find the videos needed in this fan-made album! You can help by searching for the right videos and replacing the pictures with that video!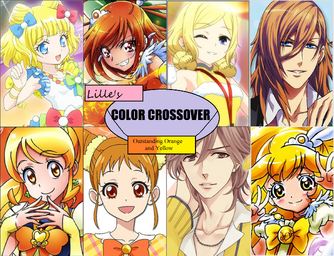 Lille's Color Crossover: Outstanding Orange and Yellow is the fourth vocal album of the Lille's Color Crossover series. It contains 8 tracks and each track is sung by each member of the Outstanding Orange and Yellow episode. However, not every character has their own character song, so there are group songs with that character instead.
Track List
Edit
Track #

Title

Time

Video
01
Go! PuriPuriPu
1:56

01:57

プリパラ ライブムービー 「ぎゃっぷりぷりっぷー」

02
Only Wonderful
4:12

04:13

03. Only Wonderful (オンリーワンダフル!)~-Cure Sunny Character Song-

03
Vanity Colon
3:14

03:15

Rainbow Live - OTOHA - 「Vanity♥colon」 full + LYRICS

04
Orange Rhapsody
3:56

05

Chu Chu Rainbow
4:30

04:31

Aikatsu! 2nd Season Mini Album 1 Track02

06
There's Delicious Love
3:59

04:39

HappinessCharge Precure! Vocal Album 2 Track03

07
Get Ready tonight!
4:06

04:07

Fuuto Get Ready Tonight

08
Peaceful Days
3:53

03:54

Smile Precure! Vocal Album 2~06 Peaceful Days
Ad blocker interference detected!
Wikia is a free-to-use site that makes money from advertising. We have a modified experience for viewers using ad blockers

Wikia is not accessible if you've made further modifications. Remove the custom ad blocker rule(s) and the page will load as expected.