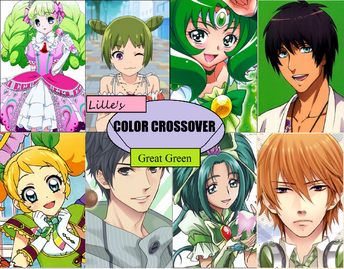 Lille's Color Crossover: Great Green is the sixth and final vocal album of the Lille's Color Crossover series. It contains 8 tracks and each track is sung by each member of the Rad Red episode. However, not every character has their own character song, so there are group songs with that character instead.
Track List
Edit
Track #

Title

Time

Video
01
morning
1:52

01:53

プリパラ morning うた ファルル(歌のみ)

02
Blowin' in the Mind
3:15

03:16

Rainbow Live - WAKANA - 「Blowin' in the Mind」 full + LYRICS

03
Always with a smile
4:31

04:32

05.Always with smile (いつも笑顔で) -Cure March Character song-

04
Ai no Reincarnation
1:49

01:50

Ai no REINCARNATION Aijima Cecil

05
Magical Time
4:36

04:37

Aikatsu Magical Time full eng sub

06
1 to 1 Subaru version
1:37

01:38

Romanji Sub)

07
Green Note
3:48

03:49

Yes! Pretty Cure 5! Vocal Album 1 Track08

08
Re-Quest!
4:57

04:58

Re-Quest!
Ad blocker interference detected!
Wikia is a free-to-use site that makes money from advertising. We have a modified experience for viewers using ad blockers

Wikia is not accessible if you've made further modifications. Remove the custom ad blocker rule(s) and the page will load as expected.