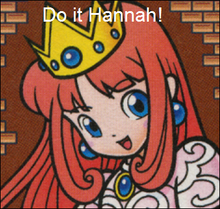 GanbareHannahChan is the Wikia account for Hannah-Chan. She contributes to many wikis, but the wikis she's most active in is the Pri Para Wiki, and the Fandom of Pretty Cure wiki.
How she discovered Wikia
Edit
Hannah-chan discovered Wikia long before she got an account, in 2012, when she looked at the Lucky Star wiki, but didn't join until November 24, 2014. She planned to contribute to the Pri Para wiki, and she is right now, along with the Fandom of Pretty Cure wiki. She also visits Community Central once in a while.
This is the first account she has where a Brothers Conflict character appeared in her icon.
This is the fourth account she has where "Hannah" appears in the username, after Hannah Rite, KissKissHannah, and TheAwesomeHannah.
This is the second account she has where a Japanese word appears in the username, (ganbare) after AsahiGirl.
This is the first account that was created 2 years after discovering the website.
Her older brother has a Wikia account, and he made the Kirby's Epic Yarn wiki.....until he found out there was a wiki about Kirby in general.
Ad blocker interference detected!
Wikia is a free-to-use site that makes money from advertising. We have a modified experience for viewers using ad blockers

Wikia is not accessible if you've made further modifications. Remove the custom ad blocker rule(s) and the page will load as expected.